33 Eclectic Books About Jorge Luis Borges
August 30th, 2018
Last week, to honor the August 24, 1899 birth of the Argentine author Jorge Luis Borges, I wrote about 19 Eclectic Books for 119 Years of Borges. This week I explore 33 books about him, covering many aspects of his life, thinking, and work. The inspiration for the post is the release this May, by The University of Virginia Press, of How Borges Wrote, by Daniel Balderston, a professor at the University of Pittsburgh, director of The Borges Center, which is based at the University, and editor of Variaciones Borges.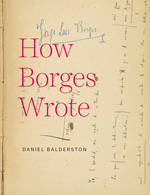 The combined books from last week and this post add up to exactly one for each week of the year, for reading/studying. If anyone approaches it that way, please let me know!
Borges: The Passion of an Endless Quotation, Second Edition; by Lisa Block de Behar; translated and with an introduction by William Egginton
Thinking with Borges; William Egginton and David E. Johnson, editors
These books are ultra-intriguing, and have some of the coolest titles on the planet. Scholars will continue to explore multiple aspects of Borges' life and writing years into the future. He has provided a rich body of work that is unlikely to lose its appeal, or its mystery.