18 Curated Books of the Year Lists For 2018
December 28th, 2018
At the beginning of the year, all things seem possible, especially for authors who will be publishing books during the next 12 months. The fortunate few will see their efforts rewarded by landing on various best-of-the-year lists.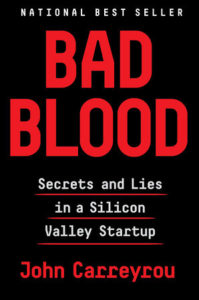 As in several previous years, I have collected and curated some of the most interesting lists. Some, but not all, are focused on the best business/leadership/management books of the year. But even those lists, especially those that reached out to various leaders for their recommendations, were not strictly bound to those genres. In that spirit, enjoy these 18 lists for 2018:
By my estimation, the big winner, at least in business-related titles, was John Carryrou's Bad Blood: Secrets and Lies in a Silicon Valley Startup, the awardee for the FT and McKinsey Business Book of 2018, and on several other lists, including a recommendation from Bill Gates in CNBC, and by Kathryn Haun, General Partner, Andreessen Horowitz, in Bloomberg. Carryrou's book builds on his investigative reporting for The Wall Street Journal about the ill-fated company Theranos and its founder Elizabeth Holmes.
It's always interesting to learn about recommendations from executives and other high-profile leaders. For instance, elsewhere on the CNBC list, the choices include Barack Obama (The New Geography of Jobs, by University of California Berkeley economist Enrico Moretti; media mogul Arianna Huffington (The Myth of the Nice Girl: Achieving a Career You Love Without Becoming a Person You Hate, by Fran Hauser); Wharton School professor and bestselling author Adam Grant (The Person You Mean to Be: How Good People Fight Bias, by Dolly Chugh); and Salesforce co-CEO Keith Block (Leadership in Turbulent Times, by Doris Kearns Goodwin).
On the Bloomberg list, Microsoft CEO Satya Nadella recommends The Book of Why: The New Science of Cause and Effect, by Judea Pearl and Dana Mackenzie; and Bharat Masrani, Group president and CEO, TD Bank Group recommends Nadella's Hit Refresh: The Quest to Rediscover Microsoft's Soul and Imagine a Better Future for Everyone. In addition, there are personal picks from Vanessa Colella, Chief innovation officer and head of Citi Ventures, Citi (Educated: A Memoir, by Tara Westover); Dara Khosrowshahi, CEO, Uber (Principles: Life and Work, by Ray Dalio); Josh Reeves, Co-founder and CEO, Gusto (Dare to Lead: Brave Work. Tough Conversations. Whole Hearts., by Brené Brown), and others.
As successful as many of these books have been, they still represent a small percentage of the many worthy and high-quality books that were published this year. We will undoubtedly see many exciting titles in 2019. Happy reading, and happy new year!