Three Questions for Dick Axelrod on Let's Stop Meeting Like This
September 10th, 2014
Now that summer is over, meeting-season is in full swing. And that's not good news to most people. Given how much time most people spend in meetings, how can they be made more productive and useful? That's the subject of a terrific new book, Let's Stop Meeting Like This, by Dick and Emily Axelrod of The Axelrod Group.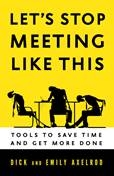 I've gotten to know Dick and Emily during the past five years through the Berrett-Koehler Authors Cooperative, and my conversations with them are always personal highlight at the annual authors retreat. I asked Dick to elaborate on some of the book's major points:
1.    Can you briefly outline the concept of The Meeting Canoe™, and why it is relevant for all types of organizations?
…
Read More