Peter Drucker and the 25th Anniversary of The Ecological Vision
December 21st, 2018
As 2018 ends, let's mark the 25th anniversary of one of Peter Drucker's most significant (though lesser-known) books, The Ecological Vision: Reflections on the American Condition. Although it is in the category of his collections of (mostly) previously published articles and essays rather than all-new material, it is worth reading not only for the content, but also as a way of better getting to know Drucker as a human being and an author.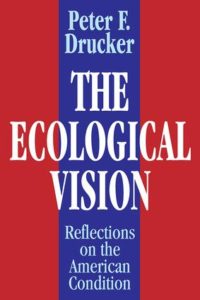 At 466 pages, it contains a wealth of material, divided into eight parts. And as Drucker provides a new introduction for each part, he opens valuable windows into his thinking and his craft, while placing each chapter in historical and intellectual context. He also contributes a highly autobiographical 16-page Afterword, "Reflections of a Social Ecologist." Even though he sprinkled in details about his life and work in various articles and books, the closest he came to an autobiography was the 1978 memoir Adventures of a Bystander, with a new 2 ½ page preface added to the 1997 edition.
The Ecological Vision was published by Transaction Publishers, whose chairman and editorial director at the time was Irving Louis Horowitz, a sociologist and friend of Drucker's, who died in 2012. The company became part of the Taylor & Francis Group in 2017. Transaction has published a number of Drucker titles that had gone out of print, such as The End of Economic Man, Landmarks of Tomorrow, and The Pension Fund Revolution (originally The Unseen Revolution), often with new forewords written by Drucker. It also published one of his final collections of essays, A Functioning Society, in 2002.
The diverse subject matter in The Ecological Vision is reflected in the variety of publications the essays originally appeared in, ranging from the lesser-known and scholarly to titles you could buy at any newsstand. Other chapters originally appeared as keynotes or other speeches. Examples:
Part One: American Experiences
"IBM's Watson: Vision for Tomorrow," Esquire, 1983
Part Two: Economics as a Social Dimension
"The Economic Basis of American Politics," The Public Interest, 1968
Part Three: The Social Function of Management
"Management's Role," Keynote address for the 15th CIOS International Management Congress, Tokyo, 1959
Part Four: Business as a Social Institution
"The New Productivity Challenge," Harvard Business Review, 1991
Part Five: Work, Tools, and Society
"Work and Tools," Technology and Culture, 1965
Part Six: The Information-Based Society
"Information and the Future of the City," The Wall Street Journal, 1989
Part Seven: Japan as Society and Civilization
"Japan: The Problems of Success," Foreign Affairs, 1978
Part Eight: Why Society is Not Enough
"The Unfashionable Kierkegaard," Sewanee Review, 1949
I wrote about the latter essay (the sole item in Part Eight) more extensively in my May 21, 2013 blog post "Thoughts on Peter Drucker, and Kierkegaard at 200," and later that year in my book Create Your Future the Peter Drucker Way. The essay is deeply personal and spiritual. In the introduction written for The Ecological Vision, Drucker writes that it "was thus written as an affirmation of the existential, the spiritual, the individual dimension of the Creature. It was written to assert that society is not enough—not even for society. It was written to affirm hope."
In the introduction to part seven of The Ecological Vision, Drucker writes that his "…approach to Japan has not been through economics or business. It has been through Japanese art and through Japanese history – the result of my falling in love with Japanese painting when still a very young man and an economist working for a London merchant bank. I did not actually travel to Japan until the mid-fifties. But I had by then lived with Japanese culture for twenty years."
Drucker's full range of intellectual and cultural interests and capabilities resonates throughout The Ecological Vision. The 25th anniversary of its publication is cause for reflection and celebration.