Tom Butler-Bowdon's Latest Book: 50 Business Classics
April 5th, 2018
One of the featured titles in 50 Business Classics, the newly-released, latest title in the 50 Classics series by Tom Butler-Bowdon, is The Personal MBA: Master the Art of Business, by Josh Kaufman. Alternately, by carefully reading and absorbing the contents of 50 Business Classics (and perhaps some of the other books in the series, such as the recently-released 50 Economics Classics), you could build a different foundation for your own personal MBA.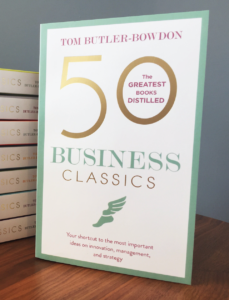 Butler-Bowdon, whom I have written about often, was born to write these concise books, which succinctly distill the right amount of wisdom from key works in various disciplines. But it goes beyond that. He is a curator extraordinaire, and unerringly determines the appropriate books to cover, which is far from an easy task. 50 Business Classics balances between older and newer titles, and between first-person narratives, conceptual books, and biographical material. For instance, he reaches as far back as late 19th century titles by Andrew Carnegie and P.T. Barnum, though most of the books are of more recent vintage, including Martin Ford's The Rise of the Robots: Technology and the Threat of Mass Unemployment, winner of the FT and McKinsey Business Book of the Year Award 2015. There are several books from 2016, including Duncan Clark 's Alibaba: The House That Jack Ma Built, and Seema Singh's Mythbreaker: Kiran Mazumdar-Shaw and the Story of Indian Biotech. Although I was previously unfamiliar with this book, Mazumdar-Shaw wrote an article, "Leading with a Social Conscience," for the Summer 2013 issue of Leader to Leader, the journal I edit. (Tom was also featured in our Winter 2018 issue, for the article/interview "Reading Economics for Lessons on Prosperity.")
A major theme in the new book is first-person innovation/entrepreneurship/entrepreneurial thinking, represented by the likes of Richard Branson's Losing My Virginity, Conrad Hilton's Be My Guest, Phil Knight's Shoe Dog, Terry Leahy's Management in Ten Words, Howard Schultz's Pour Your Heart Into It and Peter Thiel's Zero to One. On the biographical end, there are such titles as Ron Chernow's Titan: The Life and Times of John D. Rockefeller, Sr., Walter Isaacson's Steve Jobs, Alice Schroeder's The Snowball: Warren Buffett and the Business of Life, and Ashlee Vance's Elon Musk. And as an admirer of Penguin Books, I was also pleased to see a book I was unfamiliar with, Stuart Kells' 2015 Penguin and the Lane Brothers.
There are many works in the conceptual category, including Jim Collins' Great By Choice, Peter Drucker's The Effective Executive, W. Chan Kim and Renée Mauborgne's Blue Ocean Strategy, Richard Koch and Greg Lockwood's Simplify, Douglas McGregor's The Human Side of Enterprise (originator of Theory X/Theory Y), Geoffrey A. Moore's Crossing the Chasm, Eric Ries' The Lean Startup, Sheryl Sandberg's Lean In, Peter Senge's The Fifth Discipline, and Matthew Syed's Black Box Thinking.
50 Business Classics also covers books that have become part of the zeitgeist in today's business and organizational world, including Clayton Christensen's The Innovator's Dilemma, Roger Fisher, William Ury and Bruce Patton's negotiation classic Getting to Yes, and Simon Sinek's Start With Why. Chances are, within the past week or so, you've heard or read variations of such phrases as 'disruptive innovation,' 'getting/get to yes,' and 'start with/find my-our why.'
Part of the brilliance of the 50 Classics Series is that it lends itself to updated editions (as have already happened with several of the titles) and the concept can be taken into many directions and topics, if Tom chooses to do so. Given that he acknowledges that he reads slowly and carefully (beyond how much time it must take to choose his titles), time could be the limiting factor for future topics . As he writes in his chapter on Drucker's The Effective Executive, "You can always obtain more capital or find the right people, but you can't "get" time from anywhere."