Wilko Johnson and the Ultimate Comeback
July 16th, 2018
There are few real-life stories as inspirational as the unfolding saga of the iconic British rock guitarist Wilko Johnson, who first became known in the '70s pub rock band Dr. Feelgood. On July 12th, he turned 71, which not that long ago did not seem like a viable possibility. In early 2013 it was announced that Wilko had terminal cancer, and supposedly had under a year to live.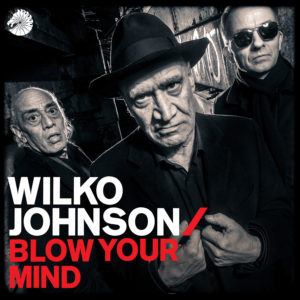 To broadly recap the Wilko-related output since his initial diagnosis:
January 2013: Johnson announces that he has terminal pancreatic cancer, and that he will forego treatment.
January 2013: Announces farewell tour dates.
Late 2013: Meets with a fan, breast cancer surgeon and rock photographer Charlie Chan, who examines Johnson and believes the diagnosis is incorrect. As reported in Louder, Chan said: "I spoke to some pancreatic experts I know, including Emmanuel Huguet who works at Addenbrooke's hospital in Cambridge. I went back to see Wilko at his home and examined him for three hours and read the background and I just couldn't believe that the diagnosis was right. I asked him if he'd go and see Emmanuel."
April 2014: A team led by surgeon Emmanuel Huguet saves Wilko's life in a 9-hour operation at Addenbrooke's Hospital, Cambridge, England. As reported in the Sunday Express, Dr. Huguet said "This was a culmination of sustained effort by many experts, including radiologists, pathologists, anaesthetists and ward staff all of whom were crucial to the final outcome." According to the BBC, Dr. Huguet remarked that "Even in a large pancreatic cancer centre like Addenbrooke's, we rarely encounter tumours of that size that have involved so many other organs."
April 2014: Hit album, Going Back Home, by Wilko and Roger Daltrey of The Who, released by Chess Records UK.
July 2015: Release of The Ecstasy of Wilko Johnson, a film by Julien Temple, director of acclaimed 2009 documentary Oil City Confidential, about the rough-and-tumble origins of Dr. Feelgood in gritty Canvey Island, Essex, England.
June 2018: Blow Your Mind, by Wilko Johnson (with bassist Norman Watt-Roy and drummer Dylan Howe), released by Chess Records UK.
July through December 2018: Live dates continue, including several scheduled for Japan, a traditional Wilko stronghold.
In an extensive profile/interview in the Independent on Sunday from August 4, 2013, months after his initial diagnosis, Johnson is described as a "deeply complex man": "Before Dr Feelgood, Wilko was an English teacher who'd graduated from Newcastle University with a degree, specialising in medieval literature and the Icelandic sagas." In the years prior to his initial diagnosis, Wilko had played in various configurations of his own band, and even appeared in episodes of Game of Thrones, in the role of the mute executioner Ser Ilyn Payne. The Louder Than Words Festival, with Rock's Backpages and Bloomsbury Press, has recently announced the 2018 Wilko Johnson Writing Award, which is open to "All young writers (age 25 or under on 11th November 2018)." The submission of 350 words should be titled "Writing on Music – the future's rosy!"
The best of Wilko Johnson's music, both solo and with Dr. Feelgood, is timeless. It will be appreciated by generations of listeners long into the future.